Something special…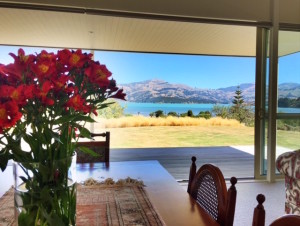 For those staying in the Harbour View Bed and Breakfast rooms, guests are invited to enjoy their full breakfast from 8.30am in the dining room with it's commanding views of the Akaroa harbour and surrounding hills.
In the winter a fire warms the space, adding a special ambiance.


Your host Jane creates breakfast from quality, fresh local ingredients, many of which are grown in the gardens at L'abri.
Individual dietary needs can be catered for, but we need to know in advance – please let us know when you book.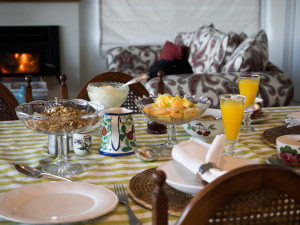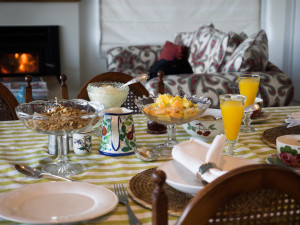 Breakfast begins with freshly cooked croissants, fruit juices, both cooked and fresh fruits served with homemade greek style yoghurt and muesli, along with fresh coffee and teas.
This is followed by an individually prepared choice from our Daily Menu, which may vary according to the seasons, but here are some examples: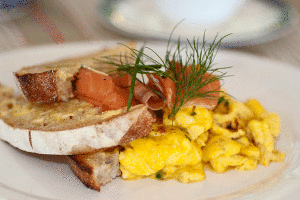 Eggs Scrambled
Scrambled eggs with a dash of cream, seasoned and accompanied with local smoked salmon, fresh herbs and toast.
Eggs Benedict
Whole grain toast topped with two poached eggs and classic hollandaise sauce with crispy bacon.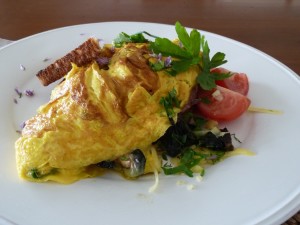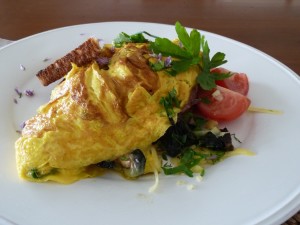 Baked Eggs with spinach and bacon
Crispy cooked bacon and wilted spinach, topped with two eggs. A little cream and seasoning are added before baking in the oven. This is topped off with shaved parmesan and buttered toast.
French Omelette
Beautifully cooked omelette, made from home grown eggs, filled with fresh herbs, cheese and tomatoes or mushrooms. This is served with buttered whole grain toast.