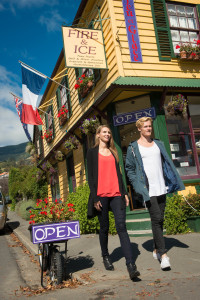 Akaroa has many great walking tracks that you can enjoy for free.There are wildlife cruises, cooking schools, restaurants and wineries. 
At L'abri itself…
There is safe swimming is only 100 metres away from L'abri, or you may choose to just relax on the veranda or your own private deck and enjoy the surrounding beauty and plentiful bird life.
Take a stroll along the waterfront and enjoy a coffee while you browse the quaint shops in our village. Akaroa village is just 3kms away – a lovely across farmland or a short drive.
Akaroa and Banks Peninsula Activities
Akaroa.com is a great resource for more information about the area. They even have a seasonal focus – what to do at different times of the year.
Eating Out in Akaroa
Whether picnicking with family or romancing the love of your life what's better than seaside dining?
Akaroa village is home to a great bunch of imaginative chefs, a butcher, baker and chorizo maker creating sensational snacks to degustation dinners using beautiful locally grown and prepared produce including fresh local fish. Cafes, restaurants, bistros and bars serve boutique local wines and cheeses and micro-brewery beers. They all have a unique ambience often with live music and seasonal specials. MORE
Walking Tracks
The hills around the Akaroa Harbour are dotted with walking tracks. These vary from short hikes to all day tramps over the picturesque hills.
Walk around the historic Akaroa Township,
There are walks for every level of fitness. MORE
Walk through magnificent Hinewai Reserve – watch this inspiring story about Hinewai and how it has grown
Banks Peninsula Walks
The Rod Donald Trust has been developing an amazing network of walking tracks around the Peninsula.  Read about them here
Black Cat Cruises
They offer some fabulous options to get out on the harbour or even to swim with Dolphins – if you don't see any dolphins they offer a chance to come back on another day. MORE
We keep our passenger groups small so that you have more room to move around the boat, and enjoy your cruise without overcrowding or missing dolphin sightings due to a shortage of viewing space.
Pohatu Penguins
Pohatu is the largest Australasian Little Penguin Colony on mainland New Zealand, and you can visit this colony on an evening tour. They pick you up in a 4WD vehicle or if you have your own 4WD, you can meet them there. The road is a challenge, but it is worth it. They also have Sea kayaking trips MORE
Akaroa Adventure Centre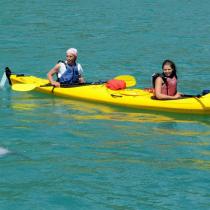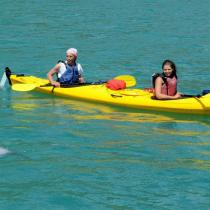 Wildlife kayaking, paddle boarding, mountain biking, surfing with the seals, electric skateboards, wet suits, boogie boards and other hire equipment. We are situated next to the Akaroa 4 Square Supermarket on the corner. You can hire all sorts of equipment from us there and book for your activities in Akaroa. We can also take you to the top of the summit road for a 13km down hill cycle ride.  MORE