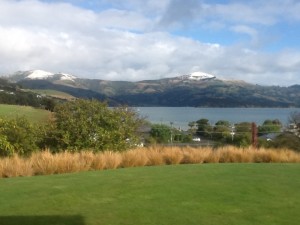 L'abri overlooks Takamatua Bay on the outskirts of the historic French township of Akaroa on Banks Peninsula.
We are less than one and a half hours from Christchurch, but a world way – leave the stress of city behind and relax.
Directions:
Coming from Christchurch, turn right off State Highway 75 at the bottom of the Takamatua hill and before commencing the steep climb leading to Akaroa.
Watch out for our sign on your left, about 50 meters from the turnoff …
Welcome to L'abri Bed & Breakfast
and Garden Cottage
Latitude        Longitude:
-43.783155    172.967902
Contact details L'Abri Akaroa B&B:
Your Host: Jane Cook
Address: 7 Takamatua Bay Road, 7581, Akaroa, Banks Peninsula, NZ
Ph. & Fax: +64 3 3047833
Mobile: +64 27 2028521
Email: bookings@labri.co.nz